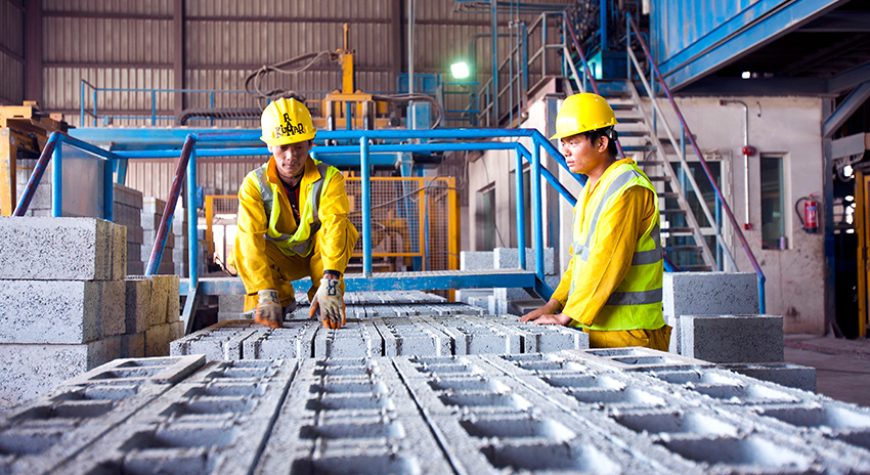 Simsima Tiles, Blocks and Interlock Factory
A member of Al Sraiya Holding Group, Simsima Tiles, Blocks and Interlock Factory is a specialized company in the production of cement products. Since its establishment in 1985 with its consistent evolution and expansion, Simsima has become the biggest producer of cement products in Qatar, collecting numerous ISO certifications along the way.
THE BIGGEST PRODUCER OF CEMENT PRODUCTS IN QATAR.
Products from this well-resourced company come in a range of different colors and sizes, made to be part of the fabric of everyday life and suited to all styles of requests. In order to achieve their standards of excellence and provide beyond satisfaction to each customer, Simsima has invested in advanced plants equipped with the latest apparatuses, operated by skilled operators and workers, to ensure the manufacturing of market quality cement along with State of the art German technology used in the production line. In addition, an in-house laboratory that contains advanced materials testing equipment certifies that all products undergo stringent quality control tests before delivery.
Simsima tiles, blocks, and interlock: Products, Systems and Solutions that are Reliable, Innovative and Cost-effective.
Multiple Plants, Maximum Performance
It also comes as no surprise that a company whose products have passed all Governmental requirements & tests and awarded the corresponding certificates, has enjoyed much growth over the years with product demand constantly on the increase.
Simsima Tiles, Blocks & Interlock Factory now the biggest producer in Qatar has six fully automated plants in different locations in the industrial area.
Plants are distributed as follows:
1. One Plant in Street No.10 which is dedicated to the production of shot blasted interlock with a capacity of 1,300 interlock/day.
2. Two Plants in Street No.41 with the capacity of 120,000 concrete blocks and 6,000 sqm pavers/day.
3. One plant in Street No.49 with the capacity of 55,000 concrete blocks/day.
4. Three Plants in Street No.52, New Industrial Area (Absaleel), for Kerbstone & Concrete Tiles with a capacity of 2,000pcs/day of Kerbstones & 1,000 sqm/ day for Concrete Tiles.
Biggest Fleet in Qatar
Only a company of extensive resources can cover all needs at any time, and as owner to the biggest delivery fleet in Qatar.
Certified Quality
Certified by the Ministry of Environment as per Qatar's standards, holds the ISO certifications of ISO 9001, 14001 & 18001 Standard Certification attesting to its strict adherence to the highest quality. It is a company whose standards are rooted in physical products and its dedicated people. Simsima Cement is a proud owner of a professional and highly trained team of experts, who fully conform to local and international safety standards and fully deployed their knowledge and expertise to fulfill clients' specific requirements.
WE ARE PROUD TO ANNOUNCE THAT SIMSIMA WAS THE MAIN SUPPLIER OF INTERLOCK IN DOHA CORNICHE DEVELOPMENT PROJECT.
Products:
Concrete Blocks
Hollow Blocks
Solid Block
Sash Block
Bullnose
U blocks
Thermo insulted blocks – pre-insulated blocks save energy
Interlocking concrete pavers
Normal Finish with graded washed sand
Blasted with Marble Chips
Grinded with Marble Chips
Rough Texture with Hard Crushed Stone
Irregular Surface Contours
SHOT Blasts Pavers
Concrete Tiles with different sizes