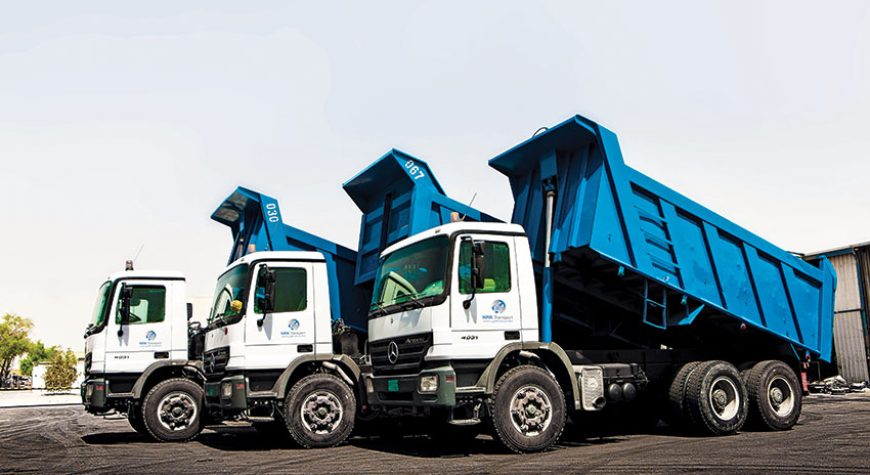 Nasser Rashid Al Kaabi Transportation
The building blocks of any growing civilization have always been measured by the value of a nation's construction; the monuments and building erected to reflect its values and principles both literally and figuratively cemented into place as far as the eye could see.
Building futures demands big plans, big dreams, and an even bigger vision; yet, humanity knows that the steps to growing huge projects lie in the meticulous details that go into taking something so small, and making it something larger than meets the eye.
And through it all, Nasser Rashid Al Kaabi Transportation, has been considered to be the bedrock of making big dreams happen via its huge fleet of construction vehicles and trucks that will cater to the needs of any construction project imaginable.
NRK's huge fleet of construction vehicles and wide variety of equipment is renowned of being an engineer's dream that aids in the creation of every kind of project at hand, allowing it to accomplish the job at an efficient and effective rate.
The company provides complete vehicle hiring and equipment leasing solutions for all kind of construction and other related services, to render your mental spark into something monumental.
NRK is a Qatar-based company, located in the country's industrial area, that develops under the umbrella of Al Sraiya Holding Group and embracing on the commitments towards the quality of services to both corporate and individual clients across Qatar.
Additionally, NRK provides clients with services such as:
– Vehicle hiring services
– Equipment hiring services
– Deliver (loading & unloading) of backfills, water, and other construction material
– Employee commutation service from their workplace to their accommodation
– Repair and maintenance service for vehicles and equipment
– Vehicle washing
The company ensures customers exquisite & affordable services that fulfill their needs & requirements in the highest possible quality.
With a fully specialized team dedicated to service excellence, guaranteeing them the necessary requirements, right on time, and without any delays.
With integrity and transparency at its forefront, NRK does its best to ensure the health and safety of their communities, and while having a greener approach towards its way of business.
The team boasts a supportive nature to each other's efforts, loyal to one another, and care for each other on both personal and professional fronts.
NRK prides itself on having a well-qualified and experienced work force at the helm of its back office, and technical field. The company technicians are proficient in Diesel, Petrol, Automobile, Industrial, electrical, and while having a number of other specialists in denting, hydraulic repairing, hose fitting, tire puncturing and many more.
NRK comes fully equipped a service station that cater to the needs of its large fleet, that allows all of its equipment and vehicles to continue operating in their highest possible state, with services such as oil changes, mechanical repairs and upgrades, maintenance and much more.
We have been dealing with numerous leading companies in Qatar, supplying equipment for their major projects won for the development of the country, such as the 2022 FIFA World Cup, and the 2030 Qatar National Vision.
NRK Transport
+974 4460 0370
+974 4451 6488