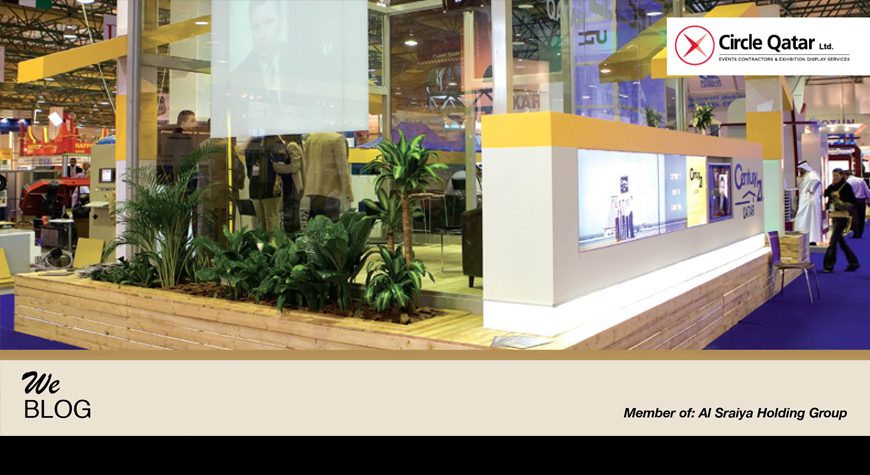 Circle Qatar: Everything You Need For Your Company's Presence
Representing your company at any conference is one of the most important features to grab attention toward your brand; it is the main eye-catching point that will give anyone who approaches it the main impression about the company's image.
In these situations, what is needed is something captivating, interesting, and trendy to attract high-value clients and customers.
Which is why Circle Qatar LTD is your go-to.
Part of the IFP Group with Al Sraiya Holding as its mother company, Circle Qatar takes pride in creating memorable stands customers will want to visit again and again. As a leading provider of exhibition stand design and contracting services in the Arab world, Circle Qatar is the perfect solution for events and exhibitions.
Circle creates an engaging and full- spectrum exhibition environment like no other, offering flawless exhibition stand designs that bring great business benefits.
Their reinvented modular exhibitions stands changed the game and encouraged many companies to participate in exhibitions, which has their clients create a distinctive brand presence in international markets.
Circle employs a unique methodology that ensures outstanding results every time they take up a project. The way they work, the way they deliver their projects on time along with keeping complete transparency with their client makes them stand out from the crowd.
They conduct methodological research on ethics and other cultural design considerations before implementing projects in a specific country. Circle listens to your brand story and delivers your corporate presence with an eye-catching exhibition design.
Circle Qatar is committed to entertain visitors across all demographics and to immerse them in the subject matter in a truly unique multi-sensory environment, unrivalled by any other exhibition experience.
Design and execution services shaping your world
Exhibition pavilions demand meticulous attention to detail and knowledge of the prevailing trends in industry to ensure a lasting impression on the minds of visitors and elevate the class and standard.
Circle exhibitions specializes in exhibition pavilion designs & event contracting, offering turnkey exhibit display booth solutions as well as bespoke ones depending on the varying needs, budget and specifications from our clients.
Their team of highly competent, self-motivated and creative members comprises of booth designers, craftsperson, visualizers, technical experts, and project managers. Together these professionals have delivered hundreds of world class booths and pavilions to clients from across the globe.
Country Pavilion
Circle is the Artist engineer when it comes to creating pleasant pavilions that attract, inspire and motivate your visitors. They deliver large fabricated Country Pavilions for clients across the world. While planning for these large undertakings is complex – Circle Exhibitions pays attention not just to the bigger picture and the overall effect, but also to the smallest details.
Bespoke Stands
CIRCLE MENA is a leading provider and versatile partner when it comes to designing, producing and managing outstanding stands. CIRCLE MENA is a leading provider and versatile partner when it comes to designing, producing and managing outstanding stands.
Event Contracting
Circle Qatar helps you identify the location and venue to make your event a complete success. We handle everything from developing a Request for Proposal, to conducting site inspections and managing contract negotiations.
Throughout this process Circle ensures you receive the best value available.
System Stands
Circle offer system stands designs that bring great business benefits. Their intelligent system stands offer immediate insight into the exhibitor's products and concepts. It is not just about how it looks, it is about how it feels and how its functionality is enhanced.
Shopfitting
Circle Qatar's shopfitting services are supported by a commitment to quality, service and expertise; while providing a fully managed service from concept to completion.
In addition, they also execute planning, design shop layout and install equipment and services. Circle Exhibitions incorporates professional expertise in interior design, manufacturing of bespoke furniture, signage and fittings and purchasing of retail equipment.
Circle Qatar prides itself on having an up-to-the-minute awareness of current trends in colors and style to create shops that will draw customers in.
Address: Doha, Qatar, Ibn Seena Street, Al Muntazah area, Bldg # 54, 1st floor | Al Muntaza-Area #24 | Ibn Seena, Street # 950 | P.O.Box: 22374 Doha –Qatar, Tel: +974 4437 5808, Fax: +974 4442 6084, Email: info@circleqatar.com