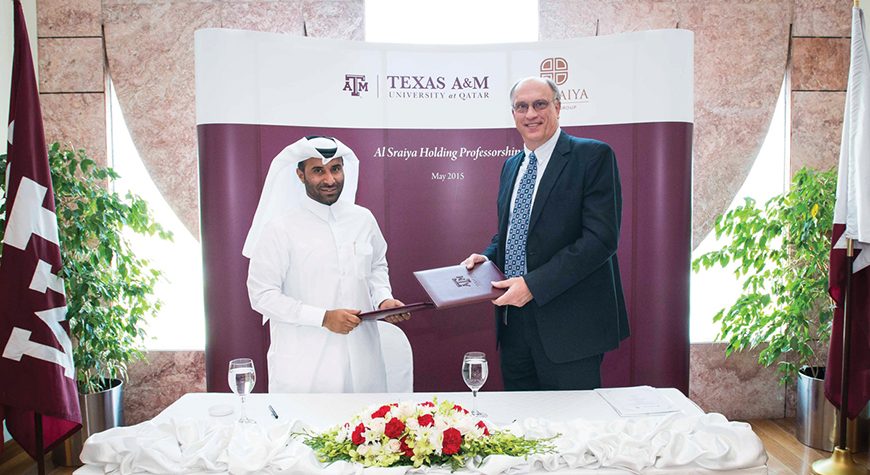 Al Sraiya Holding Group Gift Establishes Professorship at Texas A&M at Qatar
The QAR 300,000 ($82,192) gift will establish the Al Sraiya Holding Professorship for three years and is a testament to Al Sraiya Holding Group's commitment and contribution to science and education.
Commenting on the partnership, Vice Chairman of Al Sraiya Holding Group Rashid Sraiya Al Kaabi said: "We are more than happy to contribute and support such a valuable movement. The establishment of the Al Sraiya Holding Professorship is an honor and foregrounds our commitment to cooperate with the education field, further benefiting Qatar National Vision 2030. Education is one of the strong pillars upholding the vision and rewarding those who spend their lives educating new generations is a necessity. We thank Texas A&M for allowing us to be involved." Professorships help give universities a competitive edge by providing funds to attract top faculty, which in turn helps attract other top-notch faculty and students.
"We very much appreciate the generous gift provided by Al Sraiya Holding Group to establish a professorship on our campus," said Dr. Mark H. Weichold, dean and CEO of Texas A&M at Qatar. "Such gifts make it possible for us to reward some of our most deserving faculty or attract new faculty with national and international reputation to our campus for the benefit of our students and for the State of Qatar."
Texas A&M at Qatar has a long and rich history of partnering with local industry in Qatar. These partnerships help the branch campus in its goal of being the premier provider of engineering education in region and a valued contributor to Qatar. Engaging with industry enriches Texas A&M at Qatar's core activities of teaching, Al Sraiya Holding Group gift establishes professorship at Texas A&M at Qatar research and service, and guides teaching, creates enrichment opportunities for students and faculty, and show areas in which the branch campus may be able to give back to the State of Qatar directly, such as outreach programs and resources for commercial innovation so vital to Qatar National Vision 2030.